Rath Yatra 2021: Ahmedabad & Jagannath Puri Ratha Yatra LIVE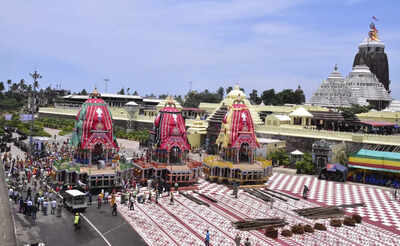 Chariots reach outside Jagannath temple on the eve of Rath Yatra festival, in Puri. (PTI Photo)
Rath Yatra 2021 will be celebrated on Monday, July 12. Rath Yatra is one of the biggest Hindu festival and it's organized every year at famous Jagannatha temple in Puri, Odisha, India.
Rath Yatra is celebrated on Dwitiya Tithi during Shukla Paksha of Ashada month (June-July).
Jagannath Puri Rath Yatra Date & Time
Rath Yatra Date - Monday, July 12, 2021
Dwitiya Tithi Begins - 07:47 AM on July 11, 2021
Dwitiya Tithi Ends - 08:19 AM on July 12, 2021
Lord Jagannatha is considered as a form of Lord Vishnu. Jagannatha literally means Lord of the Universe. The Jagannatha temple in Puri is one of the four Hindu pilgrimage centers known as Char Dham.
Lord Jagannatha is worshipped along with his brother Balabhadra and his sister Devi Subhadra.
Lord Jagannatha Ratha Yatra begins with visit to Gundicha Mata Temple to honour the devotion of Queen Gundicha, wife of the legendary King Indradyumna who built the Puri Jagannatha temple.
LATEST COMMENT
Wearing masks properly with both mouth and nose covered is more important than social-distancing.I'm saying this from my experience.,,
Dinesh kumar
SEE ALL COMMENTSADD COMMENT
The fourth day after Ratha Yatra is celebrated as Hera Panchami when Goddess Lakshmi, the consort of Lord Jagannatha, visits Gundicha temple in search of Lord Jagannatha. After resting eight days in Gundicha temple Lord Jagannatha returns to his main abode. This day is known as Bahuda Yatra or Return Yatra.
Lord Jagannatha returns to his main abode just before Devshayani Ekadashi when Lord Jagannatha goes to sleep for four months.